December 1st, 2009
---
11:40 am - And Detroit did blow it.
Only a few months later do I mention that they did.

Bruins might be righting the ship, but missing Lucic for another month will not help. Might not play in the Winter Classic. :(

June 1st, 2009
---
09:57 am - Well, at least Detroit has the Redwings.
Nothing else is going right there, but at least Stanley Cups seem plentiful.

Granted, they still could blow it.......

April 29th, 2009
---
10:08 am - Carolina on my mind.
After last minute heroics by Staal, the Carolina Hurricanes are coming to the Garden.

I was hoping for a matchup with either the Rangers or Carolina, and let Washington, Pittsburgh, or New Jersey (whichever two) beat each other in the semifinals.

I must say though, how much MORE awesome would this next round be if they were still the Whalers?

Brass Bonanza



>
April 13th, 2009
---
04:02 pm - Once again, it's Bruins and Canadiens!!
This time the Bruins got the upper hand. I'm really feeling good about it this time around.

Lets go Bruins!!



April 9th, 2009
---
10:47 am - I'm so bummed that Kings got cancelled.
Really too bad, I was enjoying the show very much.

It's moved to Saturday night's now apparently.

I'm not sure if ratings getting boosted on Saturday will help it survive at all, but if anyone enjoys the show at all, or is just looking for something else to watch, give it a look!
Current Mood:
apathetic

March 19th, 2009
---
09:25 pm - Damn it American!!
They just couldn't hold on.

My big upset gone.

January 23rd, 2009
---
December 24th, 2008
---
12:18 pm - So the entire season comes down to us winning......
and the Gunslinger pulling out a win.


Jets better not screw us.....play with pride for something please.

December 12th, 2008
---
11:10 am - Paulie is the Boss!!!
http://www.youtube.com/watch?v=5npnlDPaC4c

Got to love the archive that is the internet at times.

September 9th, 2008
---
11:13 am - You don't know what you got 'till its gone.
So Tom went down with less that a full quarter of the NFL season complete for the Patriots.

It's amazing, it almost seems scripted, with all the talk on local sports radio about how for some reason, this year we were in total peril if Tom Brady goes down.

Well, he did, but it's amazing the amount of joygasms going around the country over this, especially on NFL Network with Sharpe and Faulk.

All of a sudden the Patriots are garbage. First, Brady was a system QB who wouldn't do good outside of Belichick's system. Then, the Patriots success was all due to cheating, not throw both of the others out the door, Tom Brady was everything and we have no chance at all.

Well, I have to say, I look at our schedule, we still can make some noise. If we beat the Jets, it will quiet a lot of voices for a couple weeks at least. We're back to 2001. No, Cassell is not Brady, and this is not another Brady/Bledsoe incident in the making, but now we're back to the same basic formula. The QB is no longer the main star. Now, we just need the QB to execute and not turn the ball over. The offensive weapons we have and that running game? We can still make a run for the division and the playoffs.

Who knows what the future holds this season. Yes, the power in the AFC has been shaken up, but now we're simply one of a group of teams instead of that one that everyone is hoping to surpass. Much more of a bar room fight now.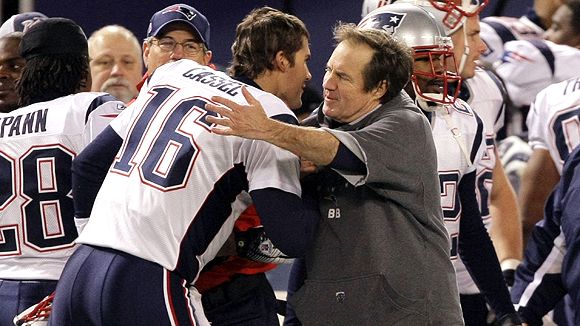 In Belichick and Cassell we trust